A mall gives visitors unique experiences all around. There are enough recreational facilities for adults and kids, ample parking for cars, several eateries, and much more. However, malls vary in size and the amount of entertainment that they offer. So have you been to Two Rivers Malls?
Two Rivers Mall Location
Two Rivers Mall is located along Limuru Road in Ruaka, Nairobi, Kenya. It is a four-minute walk from Fonda NBO and five minutes walk from CK's Eye of Kenya. It is also close to the likes of Banana Hill Art Gallery and Olpul Steak House and Grill. The mall is also close to some of the great Nairobi neighborhoods, including Runda, Nyari, Gigiri, and Muthaiga.
History and Ownership
Two Rivers Mall is a 25.1 billion development project by Centum Group which takes up 58% of the shares. Other shareholders include the Aviation Industry Corporation of China – Avic International with 39% of the shares and State-Owned Investment Firm ICDC taking up 3% of the shares. It is the largest mall in East Africa, and it ranks 7th in Africa.
It first opened its doors to the public on 14th February 2017, and it welcomed an average of 10 000 people per day for the first few days. It is a kind mall hosting over two hundred stores, multiple eateries, and an amusement park. It's a must-stop contemporary shopping center.
Essentials
Parking
The mall can accommodate up to 1046 cars in the parking lot, and it costs 2 euros for parking, although parking is free from 6 pm to 7 am.
Shopping
For foodstuff shopping, home shopping, sports gear shopping, furniture or hardware shopping, and school or office shopping, then there's plenty of alternatives to choose from. Some of the choices include
Text Book Center Ltd
Decathlon
Paris land Kenya
Ashley Furniture Homestore
Victoria Carpet
Sofi's Gallery
Safaricom Shopping
Unique Gift Center
Villeroy and Boch
Oasis Uniform
Miniso
Food plus
Samsung
Vitafoam Products Ltd
Baya Weavers Ltd
Telkom Shop
Medical Care
If you need to buy your prescribed dose or for a quick check-up, you can go to either store.
Portal Pharmacy
Jeff's Optical House Ltd
Healthy U
Centurion Pharmacy
Banks
Some of the banking services that you might receive in the mall will come from the following financial institutions.
Standard Chartered Bank
Diamond Trust Bank
KCB
NCBA
ABSA
Stanbic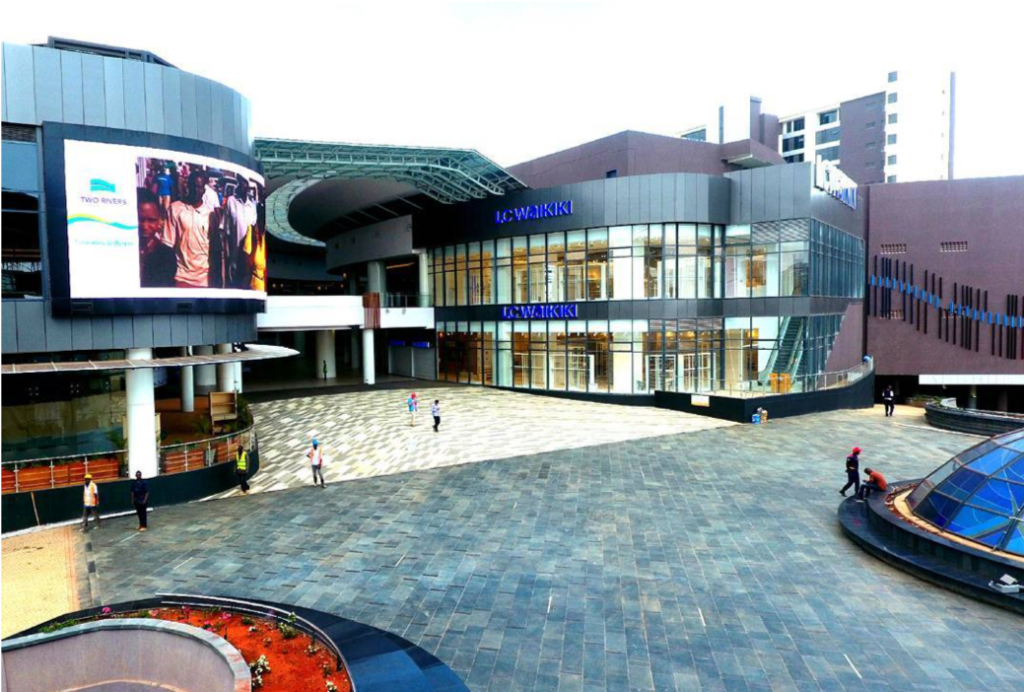 Recreational Facilities
There's plenty for your kids to do in Two Rivers. Some of the options include
Ferris Wheel (Eye of Kenya)
Auto Elektra & Build All
Magic Planet
Amusement Park
Eateries
For a quick lunch date or a dinner date, a kid's day treat, or some ice cream and cake, you have many choices to select from. Some of the eateries available include
Cold Stone Creamery
Java House Express
Silver Spur Restaurant
Burger King
Spur Steak Ranches
Galitos
Hardees Kenya
Colosseum Coffee Bar & Patisserie
Mister Wok
Artcaffé
Clothes and Shoes Store
You can always grab your new outfit if it's the festive season, for work, a birthday outfit, or if you want to do a new wardrobe makeover. You can stop by at any of the following shopping stores.
Mr. Price
Smart Baby
Levi's Store
Bata
Woolworths
Nike Store
LA Elegant
LC WAIKIKI
Barton (Melablooms)
Adidas
Zopo
Louis Feraud
Queen's Treasure
Hill Marten
Unique Africa Ltd
Accessories Stores
You will not be limited in choices if you want to grab a refill of your favorite cologne or if you want to get a proposal ring or an expensive watch for a gift; you can always get such from the following stores.
Madora
Swarovski
Accessorize with Style
The Watch Hutt
Anmol Jewellers
Fragrance Lounge
Taj Jewellers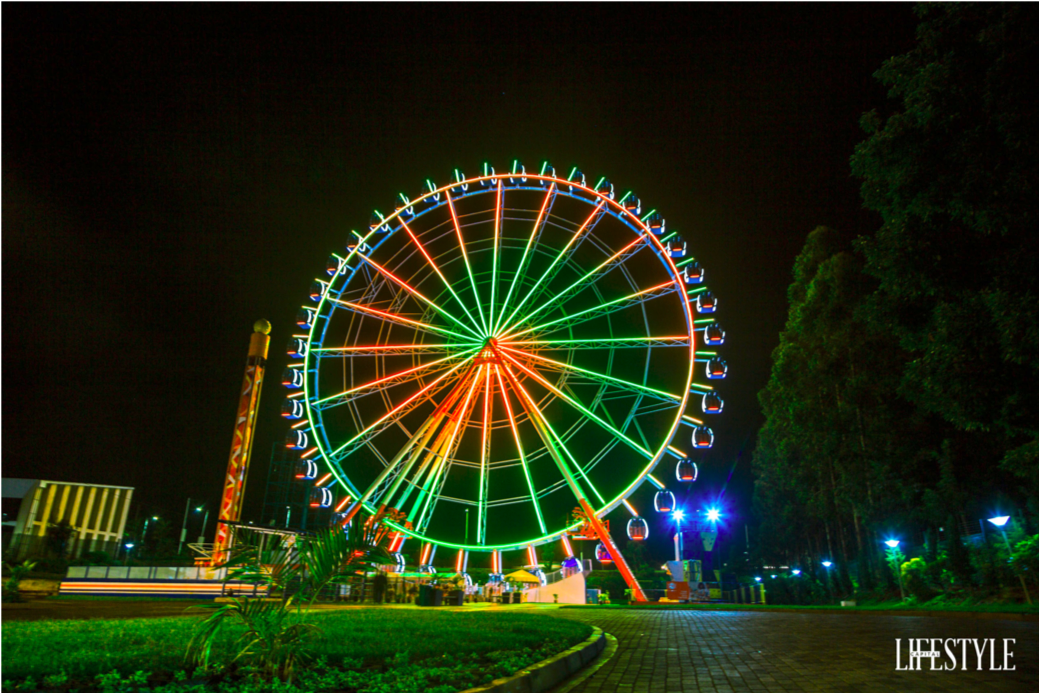 Beauty Stores
If you want your hair fixed, maybe a makeup session, nails did, or just a quick manicure or pedicure, then Two Rivers mall has just the right people for the job. Some of the stores available include
Black Up
Wedding and Floral Design Center
Maybelline Carrefour
The Designers Studio
Conclusion
There's a lot of fun to experience at Two Rivers mall, and you can get a lot of stuff, especially if you are planning to shop. One of the things that you should be aware of is that the mall can have a lot of traffic, especially at the parking, although it is understandable considering the demand. You can always stop by for a quick experience of the largest mall in Kenya.
Have you been to Two Rivers Mall? What was your favorite experience? Leave a review.