Located in Eastern Province, Marsabit county hosts numerous unique physical features and provides excellent shots for photographers. The county is well known for the Marsabit National Park that accommodates multiple wildlife. So if you are planning for a trip to Marsabit, what hidden gems should you look out for?
The Pride of Marsabit
Marsabit county is known for its strategic position and as the border of Kenya to Ethiopia. It also houses a national park that is famous in the entire province. Marsabit National Park, also known as a remote paradise for nature lovers, has a fantastic transformation from a lower scrubland to a highland forest. It also hosts a mountain that rises above the county's dry region.
The national park gives terrific views of wildlife such as African buffalo, reticulated giraffe, leopard, African elephant, spotted hyena, olive baboon, grevy's zebra, and multiple highland birds. The park is famous for its elephants have incredible large tusks, taking into account Ahmed of Marsabit, an elephant with the enormous task in the region once declared a national treasure by the president.
Hidden Gems in Marsabit
There are several hidden gems in Marsabit, some known, although many people haven't stepped afoot to see them in reality. Some of these hidden gems include
Chicho Hotel
Chicho is a small hotel located in the middle of nowhere, and that is what makes it unique. It has small rooms, spotless, quiet, and lies in a secluded part of Marsabit county. There's a tiny bathroom in each room, although very clean with a hot shower and a sitting toilet. It also has a tiny desk, a comfy bed, and a mosquito net. There are two sockets in each room for charging your devices and a small flat-screen TV. There's a management team made up of young individuals who are friendly and accommodating.
Lake Paradise, Lake Maar, and Lake Gof Sokorte Dika
These crater lakes are located at the heart of Marsabit National Park at the slopes of Mt. Marsabit. It's a 20-minute drive from Marsabit Town through the park's Ahmed Gate. Since the rest of the park is covered in thick forest, they are the popular hangouts for elephants and other animals. The area around the crater lakes changes in color in different seasons; they'll be lush green and at another golden at one point.
You will get views of In hierarchy of size, Lake Maar is the largest, followed by Lake Paradise and Lake Gof Sokorte Dika is the smallest (also nicknamed 'small sweetwater crater'). It's a great spot to do camping, game viewing, picnics, hiking, bird watching, and game drives (four of which you will need a 4WD). The animals you are likely to see include elephants, giraffes, Grevy's zebra, buffalo, and rhinos.
Chalbi Desert
Chalbi desert is a hidden gem located East of Lake Turkana. It has bleached soil, coarse rocks, and sand, a destination that requires a 4WD to course through the desert. Despite the unfavorable conditions, you'll see animals such as hyenas, endangered Grevy's zebra, and oryx. Because of the salty ground, the animals use the desert as a saltlick.
However, in the area, the Chalbi Desert covers, there are several unique features. They include
Kalacha – an oasis that provides water for the animals, pastoralists, and travelers to quench their thirst. It also has acacia and palm trees that offer some shade from the scorching sun.
Mount Forell and Huri Hills – these are much greener regions where the Gabra people live, and the climate is more lenient.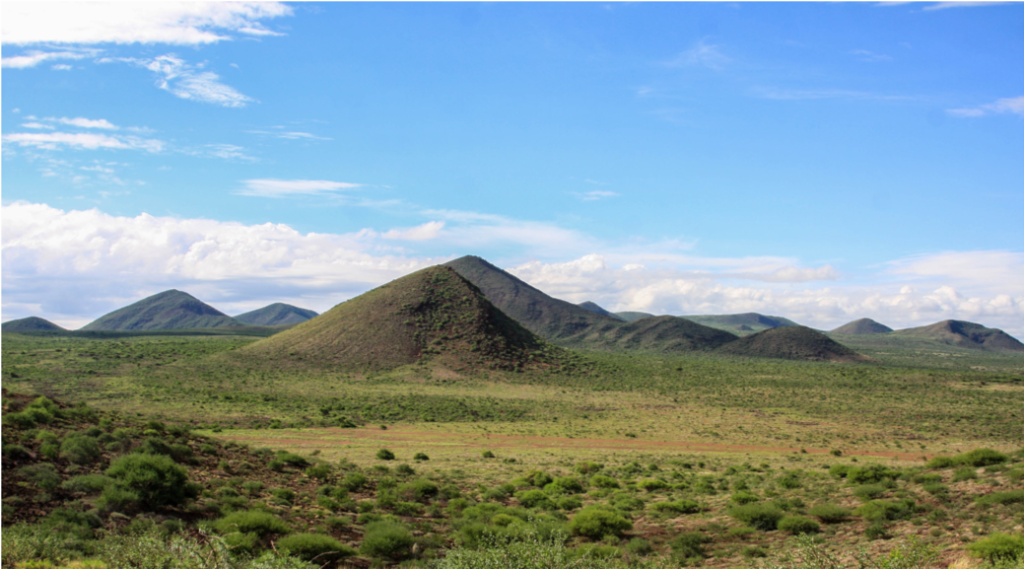 Mt Kulal
Mount Kulal is located east of Lake Turkana, and it's an eroded-down extinct volcano. It's been a biosphere reserve since 1978, and it is elevated 2285 meters high. It's the only place that Kulal white-eye (Zosterops kulalensis) was discovered. This is a unique bird that occurs on this mountain and nowhere else in the world.
Sololo-Moyale Escarpment
This escarpment hosts the Sololo town and is located on the border of Kenya and Ethiopia. The area has semi-arid climatic conditions, and the locals there get their electricity connection from Ethiopia, which is 5 kilometers away.
Dida Galgalu Desert
This is an actual definition of a desert, although most of the county seems like one. Both Dida Galgalu or Dida Galgalla are fit for naming the desert, and it offers excellent scenery and landscape. It is covered with untouched bare wilderness areas that host animals such as Grevy's zebra, Somali ostrich, Bright's gazelles, Beisa oryx, Heuglin's Bustard, and African wild cat.
Conclusion
There are unique places to visit in Marsabit, some of which make up Kenya's most remarkable places. They are strategically positioned, accessible, and offer individual experiences. It would be best if you opted for a drive to these places for the new highway provides fantastic views on your way to Marsabit town. Moreover, the people there are friendly, and you can easily be guided to your intended location if the online maps mislead you.
Authored by Mashall Masharu